BUCATTINI CACIO E PEPE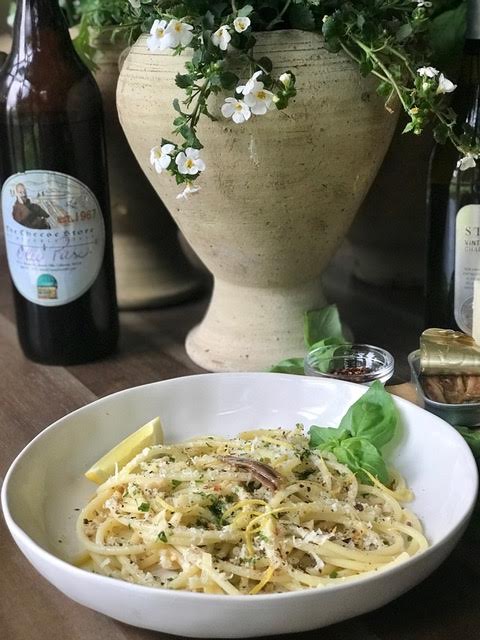 I pulled this pasta recipe out of the archives because it's simple, quick, satisfying, and delicious, and all you need is a few ingredients. Of course, I have to embellish the presentation because I think eye appeal is so important. So, I garnish with fresh chopped Italian parsley, lemon zest, and pan toasted chopped walnuts to bring out the color and a bit of crunch. The extra virgin olive oil, fresh herbs, and walnuts are extremely good for brain and gut health. You can use Gluten-Free Pasta if you like! Serve with a salad and you have the perfect lunch or dinner. You can literally have this pasta ready in less than 30 minutes! A beautifully chilled bottle of Pinot Grigio or a German Reisling is a perfect pairing. Enjoy!
INGREDIENTS
4-6 SERVINGS
8 ounces of Bucatini pasta or linguine
1/3 cup extra virgin olive oil
1 cup of chopped walnuts
1 cup freshly grated Parmesan Cheese
1 cup freshly grated Romano Cheese
¼ cup Italian parsley chopped fine
2 Tablespoons fresh lemon zest
Freshly cracked black pepper as much as you want
Place a small bowl of red chili flakes on the table
1 can of anchovy fillets( optional)
DIRECTIONS
Pre-heat oven to 200 F.  Place 4 to 6 pasta dishes into the oven to warm.
Place the chopped nuts in a dry pan and turn the heat to medium-high. Shake the pan back and forth until the color is toasted golden. It should take 5-6 minutes. Be patient it's worth it. Set aside in a small bowl.
 Bring 4 quarts of water with 1 tablespoon regular table salt to a roaring boil.
 Add the Bucatini or linguine pasta and boil according to the instructions on the box. Drain and shake off water.
  Pour pasta back into the pot you boiled it in. Turn heat on high add the olive oil and mix. Turn off heat.
 Remove the plates one at a time from the oven using oven mitts or a kitchen towel.
 Place a helping of the pasta into a heated bowl.
 Add a generous handful of Parmesan and Romano cheese over top of pasta.
 Sprinkle a tablespoon of parsley, a sprinkling of lemon zest, a generous amount of freshly cracked pepper, a pinch of red chili flakes, 1 to 2 pieces of anchovies if using to garnish.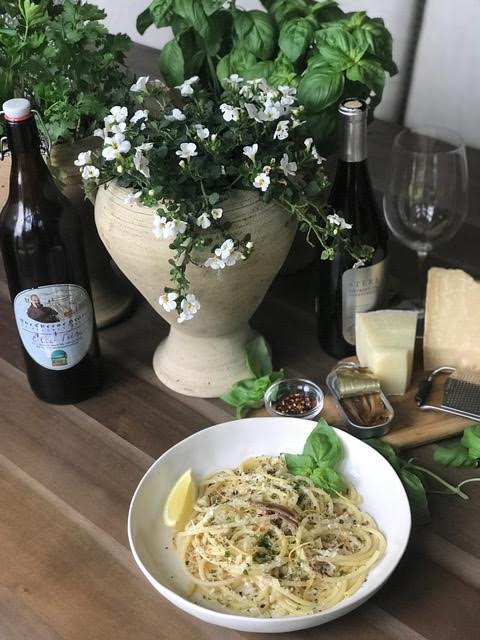 JOIN ME ON
 INSTAGRAM  @cristinacooks  https://bit.ly/3cHzCVj
INSTAGRAM   @flourish_bodymindsoul  https://bit.ly/2yxdjDd 
AVAILABLE ON AMAZON  https://amzn.to/2XZFBRr
EAT, AND LIVE "WELL"
Save
Save