This is always my go-to dish any night of the week and especially now since we are still respecting the Quarantine guidelines. I always have canned and dry beans in my pantry and frozen chicken breasts, and cutlets in my freezer. The good thing is you probably have everything you need right in your pantry and refrigerator. You can change things up and serve it with roasted potatoes, over mashed potatoes, sautéed spinach, angel hair pasta or my favorite, cannellini beans! I've included a marinade for the cutlets because it tenderizes the chicken breast and adds more flavor. It's ok if you skip this part but I have to say if you have the time I highly recommend you marinate the breasts!
MARINADE FOR CUTLETS
INGREDIENTS
1 tablespoon Dijon mustard
1/2 cup extra virgin olive oil
3 tablespoons seasoned rice wine vinegar
1/2  cup fresh lemon juice
1-teaspoon kosher salt
INSTRUCTIONS
In a Mason jar with lid, add all of the ingredients. Cover tightly with the lid and shake vigorously for 10 to 15 seconds until all of the ingredients are smooth and creamy, set aside.
CHICKEN PICCATA
SERVES 4
INGREDIENTS 
Most grocery stores carry chicken cutlets for Piccata already packaged, if not purchase boneless, skinless chicken breast and ask your butcher to slice and pound the breast for piccata or you can do it yourself. Pound the slices 1/4″ thick. 
2 Organic boneless, skinless Chicken Breasts.
1/3 cup extra virgin olive oil
1 tablespoon kosher salt and cracked black pepper
1-cup Bob's Red Mill organic flour, for dredging. You can use Gluten-Free
3 garlic cloves, crushed
1/2 cup white wine
1/4 cup fresh lemon juice
1-15 ounce can of organic cannellini beans, rinsed
2 tablespoons of capers
1 lemon sliced thin
1/3 cup capers
1/4 cup coarsely chopped Italian parsley
INSTRUCTIONS
Place the cutlets in a 9×15 glass Pyrex dish. Pour the marinade over the cutlets, Cover tightly with plastic wrap and marinate in the refrigerator for 5 hours turning once. I like to do mine overnight, just make sure to turn them over before you go to bed:)
When ready to cook, remove the cutlets from the refrigerator and let sit for 30 minutes on the counter.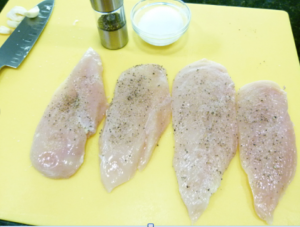 Sprinkle both sides of the chicken breasts with kosher salt and pepper.
Dredge the chicken in Bob's Red Mill, organic whole wheat flour, or gluten-free flour.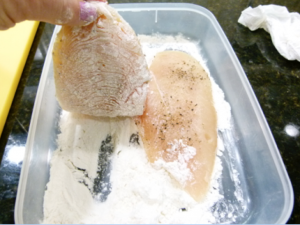 Heat the oil in large 12″ cast iron skillet which I prefer or heavy bottom skillet over medium-high heat for 30 seconds, add the garlic, and sauté until golden in color. (Be careful not to burn the garlic or the oil will taste bitter).) Remove the garlic from the oil and discard.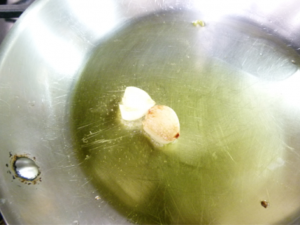 Quickly add the chicken breast into the frying pan and sauté 6 minutes on each side.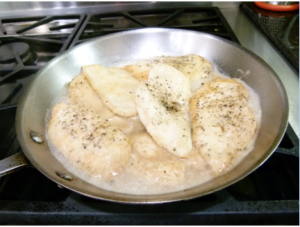 Add the white wine, cook until the wine is almost gone. Add the lemon juice over the cutlets and turn over, add beans and capers. Lower heat to a simmer and cover with a lid leaving it slightly ajar to let the steam escape. Simmer 2 minutes more.
Remove the cutlets from the pan onto a serving platter. Pour the pan juices over the top.
Add the sliced lemons and fresh parsley.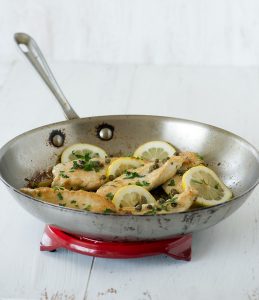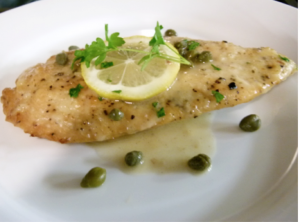 INSTAGRAM @cristinacooks https://bit.ly/3cHzCVj
INSTAGRAM @flourish_bodymindsoul  https://bit.ly/2yxdjDd
AMAZON https://amzn.to/2XZFBRr
PART OF THE PROCEEDS WILL GO TO "THE WOMEN'S ALZHEIMERS MOVEMENT"
HELP KEEP OUR BRAINS, HEART, AND GUT HEALTHY!
EAT, AND LIVE "WELL"