COOL SUMMER SOUPS! Today I have the perfect blend of fresh veggies to make a cool and creamy Gazpacho! I am topping it with a habanera pineapple salsa!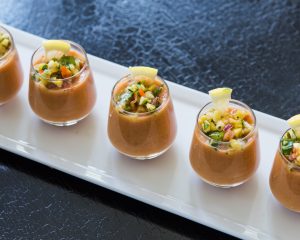 Enjoy a beautiful blend of heirloom tomatoes, cucumber, sweet red bell peppers, and onions. Send it over the top with a spicy blend of Pineapple Salsa!
The Gazpacho will tastes even better the next day after all the wonderful flavors have had a chance to sit overnight. I like it super chilled so when I get ready to serve I place it in the freezer for 15 minutes along with the bowls I will be serving it in!  When I entertain on a hot summer day, I serve appetizer portions to my family and friends along with other small appetizers!
GAZPACHO
INGREDIENTS
SERVES 4 TO 6
3 thick slices sourdough bread, crusts removed, torn up
½ cup of water
12 medium ripe Roma tomatoes, skinned and seeded
1 cup red onion, peeled and cut into chunks
½ medium red bell pepper, seeded and cut into chunks
2 large cucumbers, peeled, seeded, diced. One cucumber to add into the soup and one cucumber for salsa
1 small garlic clove, peeled and smashed opened
3 tablespoons extra virgin olive oil plus more for garnish
3 tablespoons sherry wine vinegar
2 tablespoons of rice wine vinegar
3 scallions coarsely chopped
2 teaspoons kosher salt and cracked black pepper
1 garlic clove, peeled and smashed opened
INSTRUCTIONS
Place the torn up sourdough bread in a small bowl and add water, soak for 5 minutes. Squeeze all the water out and place in a blender.
Bring 2 quarts of water to a boil in a medium soup pot. Take a paring knife and cut an X on the top or sides of the tomato.
Place the tomatoes in the boiling water for 30 to 45 seconds. Remove with a slotted spoon and place it into a bowl of cool water. Repeat the process with the remaining 6 tomatoes. Remove the skins, discard. Place the tomatoes on a chopping board and slice in half from top to bottom, not the middle. Remove seeds and discard them.
Place the skinned and seeded tomatoes in a blender with the sourdough bread, red onion, red bell peppers, 1 of the cucumbers, garlic clove, olive oil, sherry vinegar, rice vinegar scallions, salt, and pepper, mix together well. Cover with plastic wrap and let sit at room temperature for one to two hours.
When ready to puree the vegetables find and remove the garlic clove, discard
Pour tomato mixture into a blender and process for 3 minutes until smooth.
Correct seasoning adding more salt if necessary. Cover tightly with plastic wrap and put in the refrigerator for 3 to 4 hours to chill before serving.
To serve; ladle into bowls that have been chilled in the freezer to 30 minutes and garnish with 1 to 2 tablespoons of pineapple salsa and homemade croutons.
Serve with a lime wedge! Drizzle 1 teaspoon on each serving of soup with extra virgin olive oil.  Add a pinch of finishing salt.
HABANERA PINEAPPLE SALSA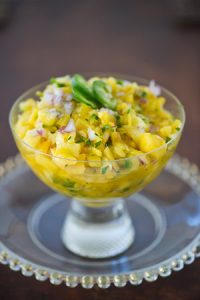 INGREDIENTS 
2 cups of diced fresh pineapple (diced small)
½ mango diced small
2 -scallions chopped fine
2- tablespoons fresh lemon juice
2- tablespoons fresh lime juice
2- tablespoons rice wine vinegar
1/2 teaspoon kosher salt and cracked black pepper
2-tablespoons finely chopped cilantro
1- tablespoon finely chopped Italian parsley
3- tablespoons extra virgin olive oil
1- Small Habanera chili pepper chopped small or 1 jalapeno chopped small
INSTRUCTIONS
To make the cucumber mango salsa place all the prepared ingredients into a glass bowl, mix together, cover with plastic wrap and, place in the refrigerator for 2 hours.
Habanera chili peppers are one of the hottest peppers out there so if you are faint of heart or tongue you can substitute jalapeno peppers or eliminate the pepper all together. But I have to say the little bit of heat and kick it gives to the Gazpacho is perfect and awakens all the flavors of the soup!
INSTAGRAM @critinaferrare https://bit.ly/3cHzCVj
INSTAGRAM @flourish_bodymindsoul  https://bit.ly/2yxdjDd
FOOD FOR THOUGHT AVAILABLE ON AMAZON  https://amzn.to/2XZFBRr
FOOD IS MEDICINE FOR YOUR BODY!
PART OF THE PROCEEDS GO TO THE WOMEN'S ALZHEIMER'S MOVEMENT!
Gazpacho recipe and other great cold and hot soups from Food for Thought!
EAT, AND LIVE "WELL"!