SOURDOUGH BREAD STUFFING, OR SUBSTITUTE GLUTEN FREE BREAD USING THE SAME RECIPE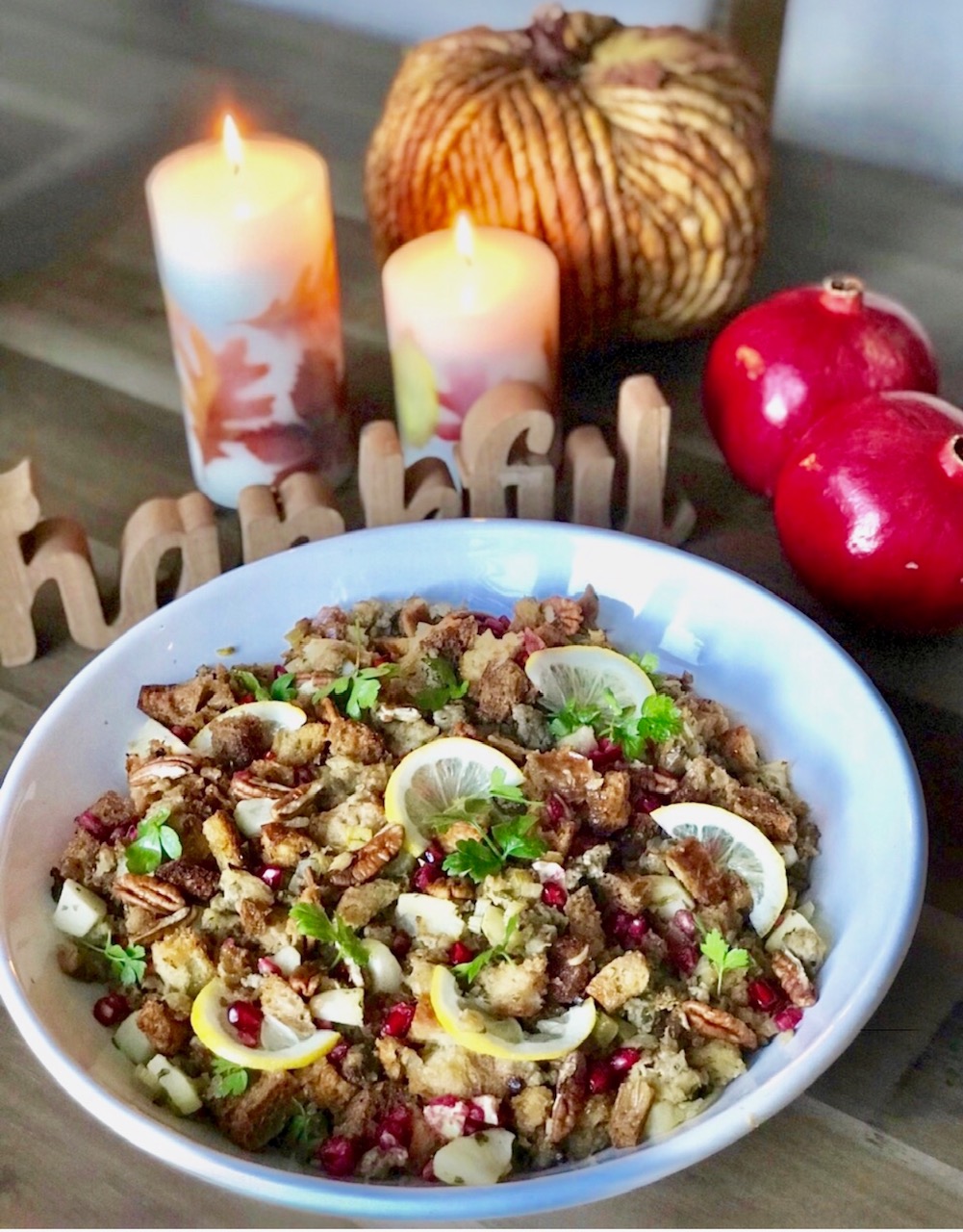 BREAD CUBES FOR STUFFING
2 pounds Sourdough bread OR Gluten-Free Bread  
Pre-heat oven to 275 F.
Cut the bread into 1″ cubes and place them onto a baking sheet. Bake in the oven for 45 to 60 minutes or until golden brown and crunchy. Keep an eye on them while baking so they don't burn. Remove from the oven and let sit on your counter uncovered overnight to dry out.
 INGREDIENTS
 15 -20 servings
  Sourdough bread cubes, OR Gluten Free
1/2 cup extra- virgin olive oil
2 large onions, peeled and chopped small
8 scallions, 2 cups chopped small
8 ribs of celery, 2 cups, chopped into 1/4" pieces
7 medium carrots, 2 cups, chopped into 1/4″ pieces
8 ounces brown mushrooms, 4 cups, sliced thin
2 medium Granny Smith apples (2cups) peeled and sliced into ½" pieces. Place in a glass bowl and squeeze fresh lemon juice and mix, this will keep the apples from turning brown, set aside.1
1- 1tablespoon fresh sage chopped small
1-1/2 teaspoon each of kosher salt and cracked black pepper
1-1/2 cups of fresh orange juice
1-quart homemade store-bought or vegetable stock
1 cup dried cranberries or raisins
½ cup Italian parsley ruff chopped small
GARNISH
1/2 cup pomegranate seeds
1/2 cup of broken walnuts or pecans
1/3 cup chopped Italian parsley
2 LEMONS THINLY SLICE AND SLICED IN HALF
INSTRUCTIONS
Place either the Gluten-Free cubes or Sourdough cubes in a large bowl.
Heat a  large cast-iron or heavy bottom skillet for 3 minutes on medium-high heat. Add olive oil, onions, scallions and cook until they start to caramelize.
Add celery, carrots, mushrooms, and sautee until the vegetables start to sweat and release the juices, about 8 to 10 minutes.
Add apples, sage, salt, black pepper and cook for 8 minutes.
Pour the vegetable mixture into the bowl with the bread cubes, orange juice, and vegetable stock,  GENTLY mix together well. 
Spoon the stuffing into a large HEFTY JUMBO STORAGE SLIDER bag. Flaten the bag gently pushing the contents evenly so it lies perfectly flat. Slide open the top of the Hefty bag and push the air out. Wrap the Hefty bag in foil, label it and store it in the freezer.
REMOVE THE STUFFING FROM THE FREEZER THE DAY BEFORE THANKSGIVING AND PLACE IT IN THE REFRIGERATOR OVERNIGHT.
REMOVE IT THE NEXT MORNING AND LET IT CONTINUE TO THAW ON YOUR COUNTER. ( IT MAY NOT BE COMPLETELY THAWED)
TRANSFER INTO A 10″ x 15″   PYREX DISH AND COVER WITH FOIL.
BAKE IN PRE-HEATED OVEN AT 325 FOR 50 TO 60 MINUTES. TO TEST IF IT IS PIPING HOT IN THE MIDDLE, USE A FORK TO LIFE SOME STUFFING FROM THE MIDDLE AND TASTE. KEEP FOIL ON UNTIL READY TO SERVE! 🙂
STUFFING CAN BE MADE THREE DAYS AHEAD OF TIME IF YOU DON'T WANT TO FREEZE IT. IT CAN BE KEPT IN THE REFRIGERATOR COVERED TIGHTLY FOR UP TO THREE DAYS!
NOT A LIVE VIDEO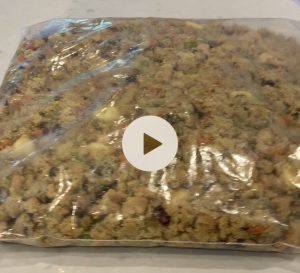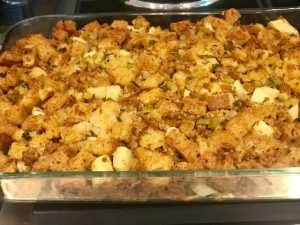 Please join me on; INSTAGRAM: @Cristinacooks
FACEBOOK Cristina Ferrare
CONSIDER THE GIFT OF HEALTH THIS SEASON! 
Part of the proceeds from Food for Thought will go to The Women's Alzheimers Movement!
AVAILABLE ON AMAZON https://amzn.to/2PNTLRm
Recipes for Ultimate Mind and Body Health!