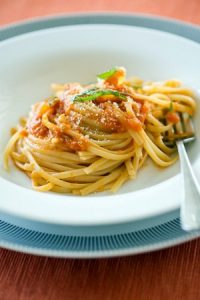 I was rummaging through my refrigerator the other morning for something to eat for breakfast. I decided I would make an egg-white omelet from the eggs that I purchased at the open market. I opened the bins to find veggies to put inside my omelet only to discover that they were on their last leg. They were wilted, no longer crisp or brightly colored. My husband thought that these veggies should be tossed. I said that I would take all of these, "sad" veggies and make great dishes from them. He challenged me to do so and I did!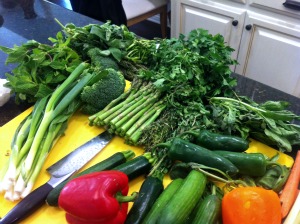 I  pulled all of the vegetables out and lined them up on the counter.  I had, scallions, 6 onions, wilted wild arugula, Roma and cherry tomatoes, red and orange bell peppers, jalapenos, zucchinis, carrots, celery, broccoli, asparagus, cucumbers, basil, parsley, and cilantro.
Tony asked me what I was going to make and I told him I didn't know, just give me three hours and I will call him in for lunch with plenty of dishes to choose from.
I actually was inspired by the heap of tired looking veggies in front of me.
I started by filling up a huge bowl with water and ice. I cut an inch off the bottom stems of the  parsley, basil, and cilantro, with a kitchen scissors under the ice cold water and let them just sit drinking in the cold water. After 15 minutes they were standing upright and restored to there full bright color! I removed them and put them in a small vase. I put the rest of the veggies in an ice bath for 15 minutes to wake them up!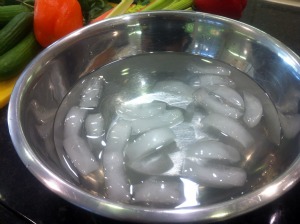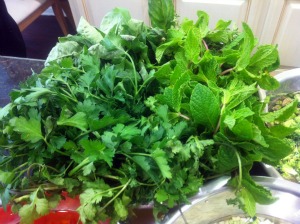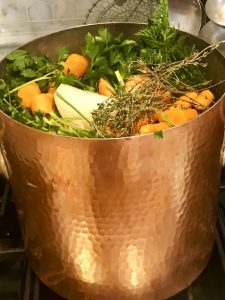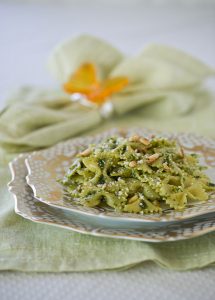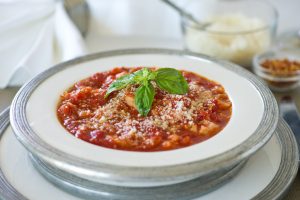 I chopped all of the veggies and kept them in separate bowls while I figured out the best way to use everything.
With everything that now lay before me all clean and bright I embraced the task at hand and went to work.
By the time the three hours were up I had made, Pesto, Vegetable Soup with Orzo, Asparagus soup,  chopped vegetable salad, Tuscan bread soup, Tomato Sauce, Curry carrot soup,  and oh yes the original omelet that I started out to make but got side tracked.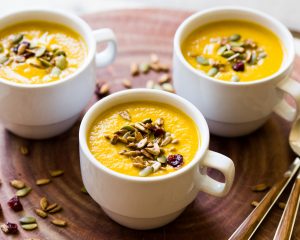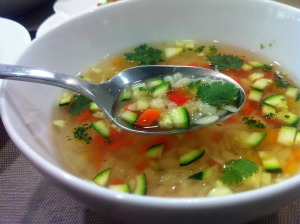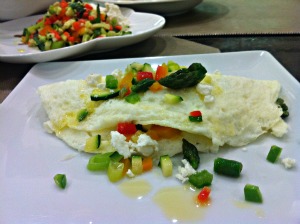 CURRY CARROT GREEN APPLE SOUP WITH BALSAMIC GLAZE
Curry powder is a spice mix that has numerous health benefits. Listen to all this; it helps protects your heart against disease, and will ease pain and inflammation in the body.  It reduces Alzheimer's disease symptoms, boost bone health and protects the immune system from bacterial infections.
The carrots in this soup are rich in Vitamin A which benefits eye health, and vitamins C, K, B as well as folate, potassium, iron, copper and manganese. It improves blood pressure, helps the skin, and anti-aging.The apples are rich in Vitamin A, B, C, and Folic acid. It aids in digestion, is rich in fiber, improves intestinal health, aids in respiratory issues, helps prevent heart disease, plus they are simply delicious!
I serve this soup often to my family and guests. I was honored to find out that this soup was chosen to be served at a luncheon I attened at, City of Hope Hospital for the latest seminar on Cancer research.
INGREDIENTS
Serves 4 to 6
1/4 cup of extra virgin olive oil
1 large yellow onion peeled and sliced into strips
6 scallions chopped coarsely
2 Tablespoons dry Sherry
6 medium carrots peeled and chopped into chunks
1 large green apple peeled, seeded and chopped into chunks
2 Tablespoons curry powder
1-1/2 quarts of vegetable or chicken broth
2 teaspoons kosher salt & freshly cracked black pepper
2 Tablespoons chives chopped small
4 to 6 sprigs coarsely chopped fresh dill
4 to 6 Tablespoons walnut oil
¼ cup sunflower and pumpkin seeds
½ cup chopped walnuts toasted*
Pinch of cayenne pepper over each serving
Balsamic glaze store bought or homemade PG (  )
 INSTRUCTIONS
Heat a soup pot on medium high heat for 30 seconds, add olive oil, onions, scallions and sauté for 6 to 8 minutes to sweat the veggies.
Add sherry, carrots, apples, curry powder and mix well. Stir for 1 minute to wake up the flavors of the curry.
Add the vegetable or chicken stock and salt.
Lower heat to medium, cover and bring to a gentle low boil for 30 minutes.
Add soup in batches into a blender and process for 1 minute to get a smooth and creamy consistency. Pour into a bowl while you finish blending the rest.
Pour blended soup back into a clean soup pot and heat for 8 to 10 minutes on medium heat. Ladle into heated bowls.
For each serving, garnish with fresh chives, and dill. Drizzle 2 teaspoons of walnut oil over each serving. Add a sprinkling of sunflower and pumpkin seeds and toasted walnuts.
Finish with a pinch of cayenne pepper and a drizzle of the balsamic glaze.
COOKS NOTES;
Perfect Summer Soup too! Serve chilled with a garden green salad.
*TOASTED WALNUTS
The walnuts pick up an earthy rich flavor if you toast them first. Place the chopped walnuts in a cold dry pan and turn the heat to medium. Shake the pan back and forth until they start to release their oil and turn slightly brown. About 3 to 4 minutes. Be careful not to burn them because they will taste bitter. Store in an airtight container until ready to use.