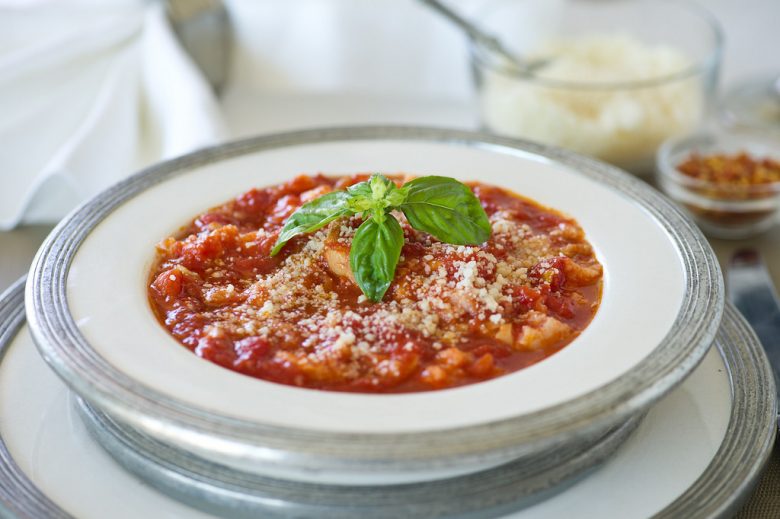 A satisfying bowl of comfort, tomatoes in a savory soup!
Tomatoes contain an antioxidant called lycopene which is responsible for their red color. Lycopene improves heart health by lowering blood pressure, which helps prevent coronary heart disease, fights toxins in the blood, and helps keep your eyes healthy. Lycopene has pain-inhibiting abilities for those suffering from neuropathy, and it is good for brain health by counteracting future cell damage. It also helps keep your bones strong by helping relieve stress on the bones. 
It's important to increase your potassium intake and to decrease your sodium. That will help to reduce your risk of cardiovascular disease. 
Besides all that it is simply a delicious bowl of goodness. On cold winter nights it the perfect soup to serve. It's quick and easy to prepare. I can make this soup any night of the week because I always have, olive oil, garlic,  organic broth, canned tomatoes, and 2 to 3 day old bread in my pantry:)  
INGREDIENTS
Serves 6 to 8
1/4 cup extra virgin olive oil
3 garlic cloves, thinly sliced
1/4 teaspoons red pepper flakes plus more for garnish
1/4 cup dry white wine
2, 28 oz cans crushed tomatoes
1 packet stevia
1-1/2 teaspoons kosher salt
Black pepper to taste
2 cups chicken or vegetable broth homemade or store bought
2 cups day old bread, torn into pieces 1″ pieces (sourdough baguette, Italian bread, or ciabatta)
6 fresh basil leaves rolled tightly like a cigarette and sliced thin
2 tablespoons extra virgin olive oil, for garnish
1-1/2 cups freshly grated Parmesan cheese
Red pepper flakes, garnish
INSTRUCTIONS
Heat a heavy stockpot on medium-high heat for 1 minute. Add  olive oil and garlic, sauté until the garlic starts to turn a golden brown. Take care not to burn garlic. Add red pepper flakes, white wine and cook for 2 minutes.
Add crushed tomatoes, stevia, kosher salt, black pepper, and chicken or vegetable broth. Bring to a gentle boil, reduce heat to low boil and simmer uncovered for 60 minutes making sure to stir 2 to 3 times while simmering. 
Add the torn bread mix in, let the bread sit about 5 minutes to help it absorb some of the liquid.
Heat through and serve in individual bowls. For each serving, garnish with fresh basil, 1 teaspoon of olive oil and extra red pepper flakes and liberally add Parmesan cheese!
Please join me on;
 INSTAGRAM: @Cristinacooks
FACEBOOK Cristina Ferrare
cristina.petclub247  https://bit.ly/2J6pSVt