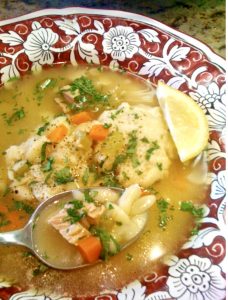 TURKEY SOUP WITH DUMPLINGS!
What better way than to enjoy the weekend after Thanksgiving watching all the games with a steamy hot bowl of soup!
Making soup from the carcass of the Thanksgiving turkey never seems to disappoint. Making and adding fluffy dumplings brings an added dimension to the broth and the fresh veggies a satisfying comfort. I serve it with leftover turkey to make sandwiches while family and friends, (yes everyone is still here) gather round to scream at the T.V.!
INGREDIENTS
Serves 8 to 10
4 tablespoons extra virgin oil
2 large onions, peeled and sliced thin
6 whole scallions chopped coarsely
3 tablespoons unbleached all-purpose flour or tapioca flour
7 quarts of water
1 turkey carcass, from at 14 to 20 pound roasted turkey
10 carrots peeled and cut into quarters.
Chop the remaining 2 carrots into small pieces to add in soup later, cover and set aside.
10 celery ribs, cut in half. Chop the remaining 2 celery ribs into small pieces to add in soup later, cover and set aside.
1 bunch of Italian parsley
1 tablespoon ground cumin
Juice from 1 fresh lemon, save the rind to add into the soup
1-1/2 tablespoons kosher salt
2 cups chopped turkey meat ¼ inch thick, cover and set aside
DUMPLINGS
1-¼ cup all-purpose flour
1 teaspoon baking soda
½ teaspoon salt
½ cup buttermilk
3 tablespoon fresh Italian parsley, chopped fine
2 scallions, green part too, chop fine
8 ounces orzo pasta, cooked, rinsed and set aside
GARNISH
1 lemon cut into 8 wedges
1-1/2 cups uncooked orzo pasta
Cook according to package direction, rinse set aside until ready to add to soup.
SOUP
In a large stockpot heat the olive oil on medium-high heat for two minutes, add the onions, scallions and sauté until they start to caramelize, about 5 to 8 minutes. Add the 3 tablespoons of flour and mix. Pour in the water and mix well. Add the turkey carcass,
"8" carrots and "8" celery ribs cut in half, parsley, cumin, lemon juice, lemon rind, and salt.
Bring to a rapid boil then lower heat to medium-low and place a lid slightly ajar over the pot and simmer slowly for 90 minutes. Strain the soup through a calendar. Discard the carcass and vegetables.
Place the strained soup back in the stockpot and let sit in the refrigerator for 2 hours to let the fat rise to the top and skim as much as you can off. I put mine in the refrigerator overnight. The fat hardens and it's easier to remove the fat. Discard the fat.   Bring the soup back up to a gentle boil on medium-high heat then lower to medium.
DUMPLINGS
Add the flour, baking soda, and salt into a small bowl and mix together well, add the buttermilk, 2 tablespoons parsley, and 1 chopped scallion and mix just until the flour has disappeared. Don't over mix.
Drop the dumpling mixture 1 tablespoon at a time into the gently boiling soup, cover completely with the lid for 20 minutes and DO NOT LIFT THE LID.  Remove the lid and cook 20 minutes more turning the dumplings gently.
When ready to serve, add the cooked orzo, chopped turkey meat, chopped celery, carrots and simmer for 5 minutes.
Ladle into hot soup bowls and garnish with remaining chopped parsley and scallions and a lemon wedge for squeezing on the side!
COOKS NOTE
Adding a squeeze of fresh lemon juice picks up the savory flavor of the soup. It gives it a lighter slightly tangy taste that wakes up your taste buds!
I use orzo pasta because it can stand up in the soup without getting too soft or soggy!
ENJOY!