I have a love hate relationship with these little orbs because they always manages to prick me with their tiny thorns not once but several times while I'm cleaning them! The needles are so fine that I have difficulty finding and pulling them out. Ouch! I do it though because it's so worth it after your done!
Artichokes are rich in fiber, potassium and iron, I eat three to four every week. One of  my favorite ways to serve them is boiled and served with a cucumber vinaigrette. This presentation is beautiful and will impress everyone!
Serves 6
Ingredients
2 cucumbers peeled, seeded, diced and placed in a glass bowl, set aside.
INGREDIENTS
2 tablespoons Dijon mustard
1 cup extra virgin olive oil
1/2 cup fresh lemon juice
1 tablespoon low sodium soy sauce
2 tablespoons rice wine vinegar
1/4 teaspoon kosher salt
2 scallions, chopped fine
1/4 cup fresh dill, chopped fine
1/4 cup fresh basil, chopped fine
Directions
Make the vinaigrette:
In a glass bowl whisk together mustard, olive oil, lemon juice, soy sauce, rice wine vinegar and salt. Add the scallions, dill, basil and whisk. Pour over the cucumbers and toss together well. Correct seasoning adding more salt if necessary. Cover with plastic wrap and chill in the refrigerator for an hour or more.
Use a serrated knife to slice an inch and a half off the tip of the artichoke.
Take a kitchen scissors and cut off the thorns on the tips of all of the artichoke leaves.
Pull off smaller leaves towards the base and on the stem.
Cut the excess stem so that the artichoke can stand on its own. Carefully pry open in the middle to expose the heart, then rinse in cold running water and place in a large pot, fill with cold water halfway up the artichokes.
Bring to a boil and reduce heat to simmer. Cook for 30 to 45 minutes or until the outer leaves can easily be pulled off and a small paring knife can be inserted into the middle of the choke and slides easily in and out. Cooking time depends on how large the artichoke is, the larger the artichoke the longer it takes to cook.
Carefully lift the artichokes with tongs from the water and turn upside down on a large platter lined with paper towels to let the excess water drain. When they are cool enough to handle remove from platter and place on individual serving plates.
Gently remove all of the leaves from the artichoke and place in a bowl.
Take the heart and using a paring knife on an angle gently cut out the tiny leaves with the thorns and tiny hairs all around the heart then use a teaspoon to scoop them out and discard. You should be left with a perfectly round artichoke heart with a clean inside.
Place the heart in the middle of your serving plate and arrange all of the leaves you placed in a bowl around the center of the heart to make it look like a flower.
Fill the center of the heart with the cucumber vinaigrette and serve. Make sure to have a bowl on the table for the discarded leaves. Serve any left over cucumber vinaigrette on the side.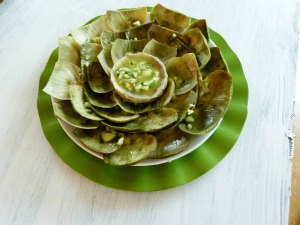 NOTE: You can prepare the artichokes and vinaigrette the day before and keep in the refrigerator until ready to assemble and serve.
Please join me on;
 INSTAGRAM: @Cristinacooks
FACEBOOK Cristina Ferrare
cristina.petclub247  https://bit.ly/2J6pSVt