Beets have been gaining in popularity as a new superfood due to recent studies. The health benefits of adding beets to your diet are significant. Studies show that increasing consumptions of plant foods decrease the risk of obesity, diabetes, heart disease and also increases energy.
Beetroot is a rich source of folate and manganese along with vitamin B-6, magnesium, potassium, zinc, copper, and selenium all-important for cognitive thinking.
Researchers at Wake Forest University have found that consuming beet juice can improve oxygenation to the brain, and show signs of slowing down the progression of dementia in older adults. Drinking beet juice as part of a high nitrate diet can improve the blood flow and oxygenation to areas of the brain.
New products containing this highly nutritious food seem to be sprouting up everywhere in juice and smoothie bars. I add beet juice to my morning drink or for an afternoon pick me up in a smoothie!
My all-time favorite way to prepare beets is to roast them because as they bake they release their juices and caramelize creating a sweet earthy flavor. Pair it with creamy goat cheese and a lemony dressing with an aged balsamic glaze and you are in for a treat!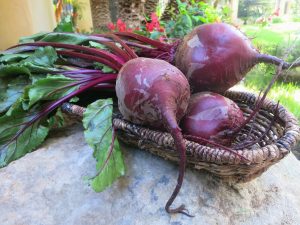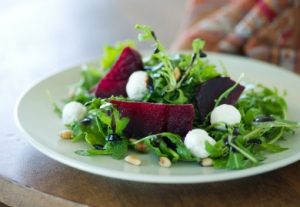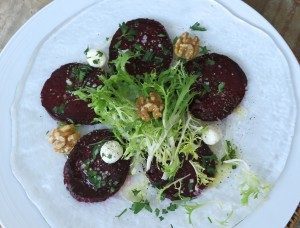 Go to 'RECIPES" (VEGETABLES) for the recipe!