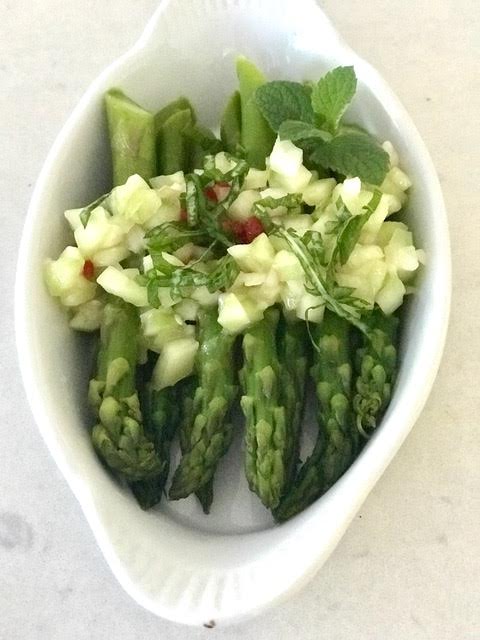 I get so excited to share recipes with you but for me it's not just about posting a recipe, it's about bringing you the healthiest form of what you are about to eat. If I'm going to share a recipe I feel it's important to provide information on what you are going to eat. Not only is it super delicious but super good for you as well. Today's pick are Asparagus and cucumbers!
So here is what you are giving your body with today's recipe for Asparagus with cucumber salsa!
Asparagus provides a good source of antioxidants, vitamins C, E and K, flavonoids and polyphenols. Antioxidants prevent the accumulation of harmful free radicals and help reduce your risk of chronic disease. It nourishes the digestive tract and is a great source of fiber. Asparagus also contains many cancer-fighting properties.
 I love the clean fresh taste of cucumbers and their aroma. I use this recipe for cucumber salsa over grilled or boiled veggies, grilled meats, fish, tacos and salsa for chips!
Did you know that cucumbers help eases anxiety and buffers some of the damaging effects of stress? That's because they contain essential vitamin B, B1, B5 B7 which helps alleviate stress. Enjoy!
COLD ASPARAGUS WITH CUCUMBER SALSA
Please join me on; INSTAGRAM: @Cristinacooks FACEBOOK Cristina Ferrare  TWITTER @cristinacooks  
CUCUMBER SALSA
INGREDIENTS
2  medium preferably English cucumbers peeled, seeded and diced small. You can use regular garden variety cucumber if you can't find English cucumbers
3 Tablespoons extra virgin olive oil
3 Tablespoons fresh lime juice
1 Tablespoon seasoned rice vinegar
1/2 teaspoon kosher salt
1 Tablespoon Jalapeno pepper diced small (optional)
2 Tablespoons red bell pepper seeded and diced small
¼ cup cilantro leaves chopped coarsely
1 Tablespoon fresh dill chopped fine
6 mint leaves chopped fine
INSTRUCTIONS
Place all of the ingredients in a bowl and stir together well. Correct seasoning adding more salt if desired.  Cover tightly with plastic wrap and place in the refrigerator to chill for 2 hours. 
Salsa will keep for 2 days in a tightly covered glass container.
ASPARAGUS
INGREDIENTS
1- pound asparagus (contains 12 to 14 spears, 9-10 inches long, ½ to ¾ thick.)
INSTRUCTIONS
Fill a medium bowl with 2 cups of ice, set aside.
Snap off dry ends of the asparagus then slice the bottom on an angle.
Bring 2" of water with 1 teaspoon of salt to a boil in a skillet. Add the asparagus in one layer. Make sure the asparagus is covered with water by 1" while cooking.
Boil uncovered until the spears are easily penetrated with a sharp paring knife, about 5 minutes, 7 minutes for large asparagus.
I serve these asparagus cold so plunge the hot cooked asparagus when ready into the ice water, let sit for one minute to stop the cooking. Drain and pat dry well.
Arrange on a platter and add salsa on top!