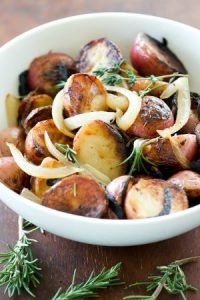 RED POTATOES WITH CLARIFIED BUTTER, ONIONS, & ROSEMARY
Serves 6
12 small to red potatoes
1/3 cup clarified butter or Ghee*
1-tablespoon fresh rosemary chopped
6 sprigs fresh thyme; pull about 1 teaspoon of the leaves off to sprinkle over the potatoes while they cook, and save the rest for garnish
1-teaspoon kosher salt
1-teaspoon cracked pepper
1-medium onion, sliced thin
2-tablespoons coarse chopped Italian parsley
CLARIFIED BUTTER
1 stick (8 ounces) unsalted butter
In a small saucepan over low heat, melt the butter; allow the butter to remain undisturbed while melting. When all the butter has melted, carefully remove the foam that forms on top. Pour the clear buttery liquid in a bowl. Be careful not to let the whey at the bottom get into the bowl. Discard the foam and whey. Leftovers can be stored in the refrigerator for up to 3 weeks. You can also purchase Clarified butter at your market.
You can also purchase Ghee. Clarified butter and ghee are not the same. Ghee is clarified butter that has been cooked longer to remove moister and the milk solids are browned in the fat and then strained. It give you a rich nuttier taste and also has a longer shelf life. Both make these potatoes taste outstanding.
TO MAKE POTATOES
Rinse and cut the potatoes in half. Dry well with paper towels.
Heat a cast iron or heavy bottom skillet until really hot. Add the clarified butter. When the butter starts to sizzle, add the potatoes, rosemary, thyme, salt, and pepper. Give the skillet a good shake. Cover and reduce heat to medium-low.
After 10 minutes, or when the bottoms start to turn golden, flip the potatoes over using a metal spatula. Add the onion, and mix. Cover and cook on medium low until the potatoes are soft in the middle and have turned a beautiful golden color and the onions have caramelized, about 30 minutes.
Transfer to a serving dish, and add more salt if necessary. Sprinkle chopped parsley over the potatoes and garnish with a few sprigs of fresh thyme.