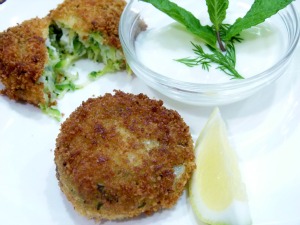 I married a Greek man and along with that came all the wonderful family traditional family recipes. One of my favorites is the Zucchini Cakes that his YAYA would make. I thought Tonys' family recipe was the best until I had the Zucchini Cakes at Kokkari Restaurant in San Francisco. I ordered them as an appetizer but then ended up ordering them for my entrée with a salad. They are light, delicate and full of flavor. The Mint-Yogurt Sauce added just the right amount of tang and creaminess!
Here is the recipe from the Restaurant!
Make the Mint-Yogurt Sauce first!
MINT-YOGURT SAUCE
INGREDIENTS
¾ cup Greek-style whole-milk yogurt,
2 teaspoons extra-virgin olive oil
Juice from 1 lemon
2 teaspoon coarsely chopped fresh mint
½ teaspoon dried spearmint
Sea salt and freshly ground pepper
Put the yogurt in a small bowl and gently fold in the olive oil, lemon juice, and fresh mint with a rubber spatula. Don't whisk the yogurt, or it will become too thin. Crumble in the dried spearmint. Season to taste with salt and pepper. Place in the refrigerator until ready to serve.
ZUCCHINI CAKES
INGREDIENTS
1-1/2 pounds large Zucchini
½ large white or yellow onion
1 teaspoons of sea salt
½ pound manouri cheese, chilled.*
2 tablespoons grated Parmesan cheese
1 tablespoon chopped fresh flat-leaf parsley
1 heaping teaspoon chopped fresh mint
1 small clove garlic, minced
¼ teaspoon grated lemon zest
1 large egg, beaten
1-1/4 cups fine dry breadcrumbs, plus more if needed
½ cup olive oil mixed with ½ cup sunflower oil
Unbleached all-purpose flour, if needed
Mint- Yogurt Sauce (recipe follows)
INSTRUCTIONS
Grate the zucchini and the onion on the large holes of a box grater, or grate in a food processor using the grating disk. Sprinkle with 1 teaspoon of the sea salt and toss well with your hands. Place the zucchini and onion in a colander lined with a double thickness of cheesecloth set over a bowl and let drain for 30 minutes.
Gather the cheesecloth and squeeze vigorously to remove as much moisture as you can. Transfer the zucchini and onion to a bowl and break up any clumps with your fingers.
Crumble the manouri cheese into the bowl and mix with your hands to incorporate the cheese evenly.
Add the Parmesan, parsley, mint, garlic, lemon zest, 2 tablespoons of the beaten egg, and ¼ teaspoon salt.
Add  ¼ cup of the breadcrumbs and knead briefly to mix well. The mixture should be firm enough to shape without sticking to your hands. Adjust with a little more egg or breadcrumbs, as needed.
Divide the mixture into 12 equal mounds and roll each into a ball.
Put the remaining 1 cup breadcrumbs in a shallow bowl and gently roll each ball in the crumbs to coat evenly. Flatten each ball into a patty a little more than 2 inches in diameter and a scant 1 inch thick.
In a large skillet, heat the oils over medium heat until shimmering. When the oil is hot enough to sizzle a few bread crumbs on contact, fry a "test" zucchini cake until richly browned on both sides, 1 to 1-1/2 minuets per side. If the cake does not hold together, it is too moist; lightly dredge the remaining cakes in flour before proceeding.
Fry in batches of 4 to 6 to avoid cooling the oil. Reduce the heat if needed to prevent the cakes from browning to quickly. Using a slotted spatula, transfer to a double thickness of paper towels to drain.
Serve hot with the Mint-Yogurt sauce.
*(Manouri is a traditional ancient Greek cheese that is made from the whey of feta, blended with sheep's milk cream. In recipes, manouri cheese is used interchangeably with a number of other cheese including cream cheese, feta, ricotta and farmer's cheese. The creamy white cheese has no rind or casing, and is often sold in log-shaped rolls. It has a moist, soft texture, and a uniquely lemony aftertaste.
If you cant find Manouri cheese, use Greek Feta!
Please join me on;
 INSTAGRAM: @Cristinacooks
FACEBOOK Cristina Ferrare
cristina.petclub247  https://bit.ly/2J6pSVt