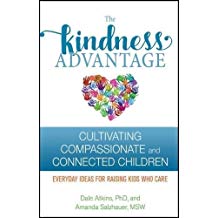 I received this email from my dear Friend Annie Gilbar. She sent this to everyone she knows and her words come at time where now more than ever needs to be said, acknowledged and embraced. Annie said to read "The Kindness Advantage": Cultivating Compassionate and Connected Children written by our mutual friend Dr. Dale Atkins along with her niece, Amanda Salzhauer.
This book comes at a perfect time. 
 Below is what my Annie wrote. I had to paste and copy her words because I couldn't even come close to how she was able to describe how important this book is to read and share with everyone. Annie is a brilliant writer and editor and has taught me so much. In this case I will let the teacher speak, it's that important.
By Annie Gilbar
You know how the most trite often seems to be the most true? During challenging times which test our ability to concentrate on the goodness of man, as evil and despair overwhelm our lives, it is hard to remember the importance of kindness.
These are not the first or the most difficult days any of us have ever encountered. And some of our parents faced the most horrific times in our history, where evil did triumph, even when hope battled to win over despair. And at the bottom of it all, then and now, disappointing and hurtful behavior was at the core of our society.
Our only hope, then and now, I think,  for making it through these difficult times, is kindness. When talk of the baseness of man comes around, you have heard me say that we have to teach children good, fair, thoughtful, KIND behavior, since the opposite seems to somehow be more natural. Psychologists way smarter and more educated than I continue to debate this view of the world – but what no one ever debates is the importance of teaching children, and sometimes adults,  kindness, and emphasizing kind behavior and acts in our daily lives.
Enter my dearest friend, the woman who spends her life healing and caring and teaching and soothing our needy souls, who needs no lessons in kindness and generosity of spirit. Dr. Dale Atkins, together with her equally kindhearted niece
, 
Amanda Salzhauer, a social worker, have written 
The Kindness Advantage
: Cultivating Compassionate and Connected Children
.
 More than a thesis about the importance of teaching children to be kind, 
The Kindness Advantage
 is a real, step by step guide to helping parents both discover and nurture kindness in our children. It is based not just on feelings (like mine) that kindness needs to be taught and developed, but on 
scientific evidence about the importance of hands on teaching kindness to our children. 
 It is written to share with your children and grandchildren, contains questions to help them connect each concept with their own life experience, and recounts inspiring real-life stories about children who make a difference (my favorite parts!) and lessons from children, clergy, and community leaders and other parents about the values of caring and compassion.
As in everything Dale does, the book is eloquent, insightful, practical and simple, a truly priceless blueprint for every parent to use. Dale and Amanda's book is compassionate, and, above all, optimistic that kindness not only should be, but can be the core of our children's character and personality, of their total lives.
The Kindness Advantage

: 

Cultivating Compassionate and Connected Children

, will be available September 11. Buy it for a friend, send it to people you care about, especially to parents at your school, but it for the holidays or just because it is 

important and you care.
And please forward your own message to your family and friends, especially to all the parents you know, regardless of their ages, as some of our children are now becoming parents to their own.And for those of you on social media, please let your followers know about the book as you share your own support of spreading the lessons of kindness.
I hope you were as moved as I was by this important message. Truly there is no greater gift we have then our children. As parents or grandparents we should encourage our children to strive and be prepared for their lives with kindness. Please read this book.
Beautifully said Annie, thank you and thank you, my friends. It's books like this, and your actions to spread the word, that can, and do, make all the difference in our world.