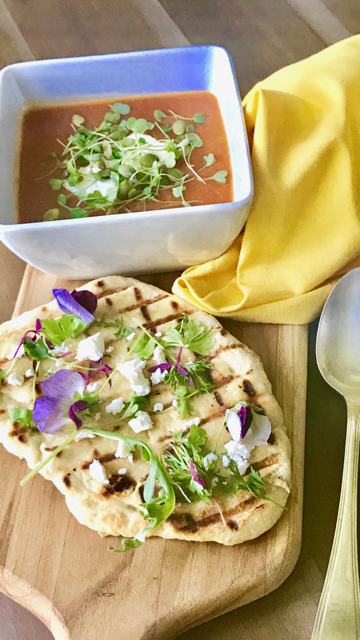 When it's really hot out I don't know about you but I don't have much of an appetite. I prefer to have meals that are light while giving me the energy I need to get through the day. I make soups out of most vegetables and serve them chilled or hot depending on the weather. Since tomatoes are at their peak of sweet flavor in summer and are super healthy for you I make it often because the season is short. I like to use baby cherry or baby Roma tomatoes for this recipe because they are sweet. I serve grilled Nan bread on the side. In Indian cooking, Nan is a type of leavened bread shaped like a teardrop and is cooked in a clay oven. I use it often and serve it with hummus, tzatziki, or on the side with a crisp salad.
What can I say, I LOVE summer vines ripe tomatoes! Tomatoes are heart healthy, filled many health benefits, including potassium which is great because you sweat so much in the summer heat that you need potassium to balance electrolytes in your body. Keep your self-hydrated and remember to drink lots of water! 🙂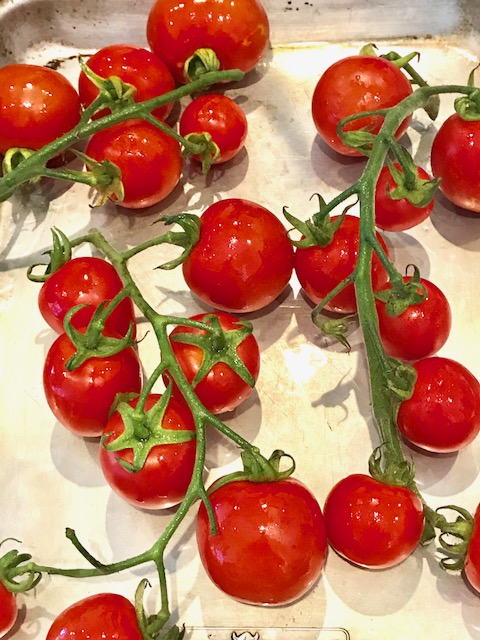 6 SERVINGS
INGREDIENTS
All organic
SOUP
1 onion, peeled and sliced thin
6 scallions, roughly chopped
2 cloves garlic peeled and smashed
1/2 cup dry white wine
6 cups ripe cherry or baby Roma tomatoes sliced in half
1 teaspoon each of kosher salt and freshly cracked black pepper
1 cup chicken stock, homemade or organic store bought
10 fresh basil leaves rolled tightly and sliced thin
1 jalapeño sliced into thin rounds
6 tablespoons extra virgin olive oil
6 tablespoons of low-fat sour cream
3 tablespoons pumpkin seeds
Large coarse sea salt or pink salt for garnish
Microgreens
GRILLED NAN BREAD
6 slices of NAN BREAD
1/4 cup extra virgin olive oil
1 cup crumbled Greek of French Feta cheese
10 fresh basil leaves rolled tightly and sliced thin
6 fresh mint leaves coarsely chopped
Extra olive oil for drizzling over nan
Edible flowers (optional)
INSTRUCTIONS
Heat a medium soup pot on medium high heat for one minute. Add olive oil, onion and scallions into the saucepan and sauté for 5 minutes. Add garlic and sauté for two minutes. Pour in the white wine and cook down by half.  Add the cut up tomatoes and salt. Keep the heat to medium and cook 30 to 40 minutes stirring often to release the natural juices of the tomatoes. You want to cook most of the liquid down so the tomatoes will thicken. Keep an eye on it.
Add the chicken stock and simmer for 30 minutes. Transfer soup from the saucepan into a blender puree and pass through a strainer  (Chinois) with small holes to catch the seeds and skin, (not a tight mesh strainer) You want to remove skin and seeds they are bitter in taste.
Pour into a bowl and correct seasoning adding more salt if necessary. Place in the refrigerator for 2 hours to chill.
SERVE
Place soup bowls into the freezer for 20 minutes before serving.
For each serving, ladle soup into a chilled bowl and garnish evenly with strips of basil, jalapeño, 2 teaspoons of olive oil,  1 tablespoon of sour cream, and pumpkin seeds. Add a pinch of the large sea salt over each serving. Top with micros greens
NAN
Heat a grill pan on high for 5 minutes. Brush the Nan on both sides with olive oil until grill marks show, about 1 to 2 minutes. Keep an eye on it.
Remove from heat and sprinkle over feta, basil mint, drizzle olive oil, about 1 teaspoon per nan, edible flowers!
Please join me on; 
INSTAGRAM: @Cristinacooks
FACEBOOK: Cristina Ferrare
TWITTER @cristinacooks   
cristina.petclub247  https://bit.ly/2J6pSVt